Wall Fountains
If you're looking to make a statement with the decor of your home or office, you can't go wrong with water fall fountain.
This indoor water fall is in the tradition of the popular Nojoqui falls series, but with a horizontal rather than vertical orientation. The result is a cascade of water streaming down a four foot wide span of beautiful Indian Rajah Slate to slip past the included polished river rocks below–a sight that will command the attention of anyone who enters the room.
These water fountains are a truly unique, engaging and an elegant addition to any indoor space.
Redesigned, the Large Horizon Falls fountain includes long-lasting super bright white LED lights rated for over 10,000 hours of use and an ergonomic finger slide remote control to easily dim or brighten the LED lights or turn them on and off. This water fountain glistens as water sheets over the genuine multi-color Indian Rajah Slate creating a soothing sound and beautiful focal point for any room.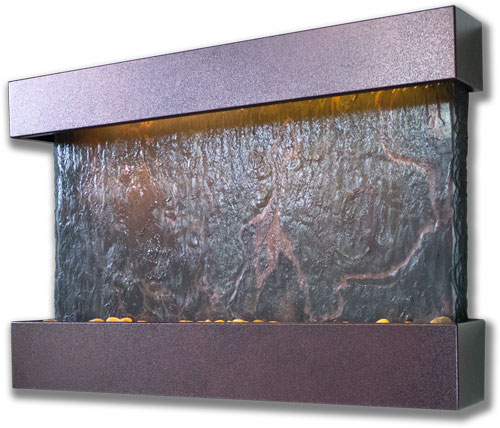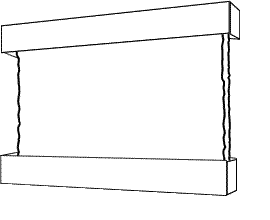 Dimensions
Product Dimensions: 33″H x 51″ W x 6.5″ D
Water fountains made with SlateTech use a patent pending technology which sheers a layer of genuine Indian Rajah Slate and fuses it to composite material with the same chipped edge technique as slab slate. They are indistinguishable from a thick slab of slate.
All our fountains are handmade and measurements may vary slightly. Texture and color of the copper and slate may also vary slightly with each fountain.
These indoor water falls come with a choice of four finishes: Copper Vein, Black Onyx, Copper Patina,or Brushed Stainless Steel.

Included with Fountain
Polished river rocks
Adjustable flow valve
Submersible pump
LED Lighting with remote control